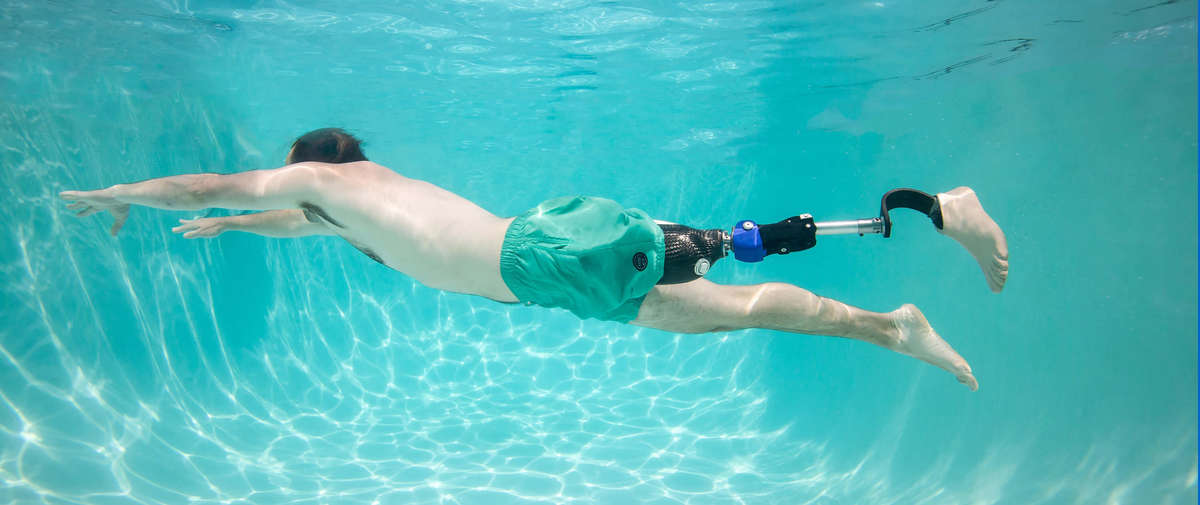 Product Features
Waterproof and corrosion resistant. Submersible in fresh or salt water.
Superior stability to traditional polycentric designs via the patented AutoLock Technology.
Friction swing phase control via the patent-pending Variable Cadence Controller.
Simple twist-knob manual lock.
Durably designed with a weight rating of 330 lb (150kg).
Potential Users
Amputees who desire a highly functional waterproof knee (e.g. shower leg, pool leg, beach leg) for a secondary prosthesis.
Amputees who desire a high-functioning, waterproof primary prosthesis that is low maintenance.
New K2 amputees with the potential to become K3 – K4 mobility level ambulators after rehabilitation.
Underinsured amputees that require a waterproof, high-functioning, and non-hydraulic prosthetic knee.
Technical Specifications
Model: ATK-PA-02
| | |
| --- | --- |
| Amputation Level | Transfemoral, Knee Disarticulation |
| Weight Rating | 330 lb (150kg) |
| Knee Flexion Angle | 150° |
| Mobility Level | K1-K4 |
| Proximal Connection | Pyramid Adaptor |
| Distal Connection | 30mm Tube Clamp |
| Proximal Portion Length | 15⁄16 (24mm) |
| Tube Clamp Depth | 1 3⁄4 (45mm) |
| Device Weight | 2.30 lb (1,044g) |
| Device Height | 7 5⁄16 (186mm) |
Selecting an All-Terrain Knee
The All-Terrain Knee collection offers four different configurations to provide an optimal experience for each use. Both the All-Terrain Knee and All-Terrain Knee Premium are available with or without stance flexion. View the comparison chart below to determine which model is right for your patient.
| | All-Terrain Knee | All-Terrain Knee with Stance Flexion | All-Terrain Knee Premium | All-Terrain Knee Premium with Stance Flexion |
| --- | --- | --- | --- | --- |
| Freshwater Activities Only | | | | |
| Freshwater and Saltwater Activities | | | | |
| Rated up to 330 lb (150kg) | | | | |
| Rated up to 275 lb (125kg) | | | | |
| Long TF Residuum or KD | | | | |